Roseau, Monday 17th May 2021: Dominica's 'Princess of Song' Michele Henderson, a world-renowned singer/songwriter, flutist, and Goodwill Ambassador, will be staging her highly anticipated The Jazz in Me virtual concert on Saturday, May 22 live from the Nature Island, and invites all Dominicans, at home and abroad to this musical journey where she will pay tribute to friends and collaborators, sharing the stage with other notable acts and highlighting some of her favourite performances around the Region.
"My friends and I are just thrilled and delighted to present this event to the public," says Michele.
She encourages Dominicans around the world to be present at the virtual show, "We just wanna invite people to have a good time, you know, it's needed now more than ever that there is something to uplift and entertain."
The Jazz in Me will be an intimate experience filmed in front of a live audience at the Fort Young Hotel's Palisades Restaurant in Roseau and streamed free of charge from 8 pm AST to virtual viewers. The concert will chronicle Michele's jazz journey over her 27-year career highlighting favourite jazz recordings and performances including popular standards and featuring memories of places she has performed at and musicians she has collaborated with.
This will include sound bites from former manager of impact! Band, Irvin Durand and tributes to Stanley Clarke and the late GRAMMY-winning, Chick Corea with whom she performed frequently on the Freewinds ship. Other Dominican acts on the lineup are UK/Dominican guitarist Cameron Pierre, Creole/ English singer Maxine Alleyne and Bouyon Queen Carlyn XP. The evening's musical offerings will wrap up with the first public performance of Michele's newest single "All over the World."
Michele who made her big debut at the 1995 staging of the Dominica Festival of Arts (DomFestA) with her song "My Pride" has had a long relationship with the genre. At age 15, Michele joined her first band (impact!) as lead singer and flautist. The Jazz ensemble enjoyed a brief stint at the top of the local music scene, releasing one album (islander) before breaking up in 1997.
Since branching out as a solo act, Michele has performed at several Jazz events around the globe, including Grenada's Spice Jazz Fest (2002), The UCLA Jazz and Reggae Festival (2004) and St. Vincent Blues Festival (2005). In In 2006 she performed in Trinidad & Tobago at both the Jazz Artists on the Green and San Fernando Festivals and also performed there that year at the bi-annual CARIFESTA festival of Arts.
She returned in 2012 as headliner at Jazz Artists on the Green. The following year she performed at Virgin Gorda's Jazz on the Hill and has had numerous appearances at St. Lucia Jazz Festival including 2002, 2003, 2005, 2006, 2008 and 2010. In her native Dominica, she has performed at all major music events to include Flow's Creole in the Park, the World Creole Music Festival and Jazz N Creole. This year she represented Dominica at the UNESCO-organised, virtual, International Jazz Day celebrations.
Apart from the Jazz festival circuit, Michele has also performed at major European events to include Antilliaanse Feesten Hoogstraten in Belgium, Roskilde Festival in Denmark, and the Imatra Big Band Festival in Finland.
Michele who hails from and lives in Grand Bay, a community oftentimes referred to as the cultural capital of Dominica, sings in English, French, and French Creole. She is an advocate and law student and is also the Vice President of the Association of Music Professionals in Dominica and a board member of the Eastern Caribbean Copyright Organisation (ECCO). Apart from her own musical exploits, she also writes for competitors across a range of genres from Pop, to Cadancelypso, to Calypso.
In 2014 she won the CARICOM song competition with her entry "Celebrating CARICOM." The song is considered the official anthem of the Caribbean Region and is used at all official CARICOM functions. This year she collaborated with the Organisation of Eastern Caribbean States (OECS) and was one of 10 artists featured on the single "More Than Just Islands," which aims to bring awareness to marine pollution.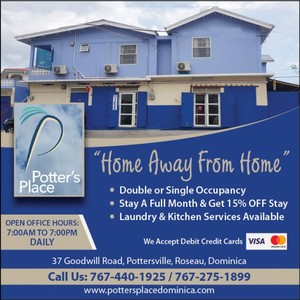 Since the onset of the COVID-19 Pandemic, Michele, like many other artists worldwide, has not had many live in-person performances. In December 2020 she entered the virtual performance sphere with her Xmas Jam Special on December 23rd, 2020 followed by Nature Island Love in February 2021. The Jazz in Me will be one of two shows branded under the Nature Island Jazz XPerience. The other will be Carlyn XP's Bouyon Jazz Festival, which will take place on Sunday, May 30th. Both artists will perform on each other's show.
Both events are free to virtual viewers and virtual audience members are encouraged to patronize the artists in an effort to compensate the musicians and crew, many of whom have been out of work during the Pandemic. Sponsors are encouraged to get on board to help to this end.
The Jazz in Me wishes to thank sponsors so far, the Fort Young Hotel, D Shipping & Logistics (Operators of the ShopBox Franchise), the Grand Bay Cooperative Credit Union, Tranquility Beach Resort and Spa, the National Cooperative Credit Union, and Timbo's Suites, Digicel Dominica and the Discover Dominica Authority (DDA) for their assistance.
There is space for only 60 persons at the Palisades and tickets cost $200.00 and includes a 4-course dinner (starting from7pm) and a glass of champagne. Tickets can be purchased at Fort Young Hotel
View Michele Henderson The Jazz in Me on YouTube and Facebook at (www.facebook.com/michelemuzic) and (www.YouTube.com/michelehenderson). Carlyn XP's Bouyon Jazz Festival will be streamed live on her website (www.carlynxp.com/live), YouTube (www.youtube.com/carlynxp) and Facebook (www.facebook.com/carlynxp767) pages.