The union representing employees of Courts Dominica LTD is expressing displeasure over the company's proposed handling of the laying off of some staff members.
General-Secretary of the Waterfront and Allied Worker Union (WAWU), Kurtist Augustus made his sentiments known following communication, or lack thereof, between Courts and the WAWU.
While he admits that the Union has been informed of the intentions of Courts, which specializes in the retail of furniture and appliances, to close its Portsmouth operations, the Union was in limbo as it relates to specific information and that both parties should engage in further dialogue.
"I must say that this time around, I am a bit disappointed in Courts. They sent the Waterfront and Allied Workers Union a letter indicating that they were going to be making some changes. In that letter, they informed the Union that they were in fact going to close the Portsmouth branch, where some 5-7 employees would be impacted.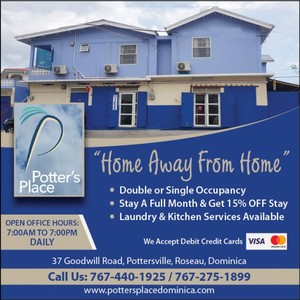 "A couple of days later, they sent a letter to the Labour Commissioner and in his letter, they indicated that they were in fact providing a list of the workers to be impacted, which they did not send to the union so that we could check the content of the letter and the computation of the redundancy or the terminal benefits to determine whether, in fact, it was correct," according to Augustus who possesses a keen insight in relation to trade union matters.
The Union boss compared the actions of Courts to that of the management of Fort Young Hotel where workers were being laid off due to the COVID-19 pandemic. He further stated that there was constant consultation throughout the process with the management of Fort Young Hotel.
"The Union was called by the management of Fort Young Hotel to inform us of their intention to lay off staff.
And of course, once there is an indication by any management that they are going to reduce the level of staffing in their establishment we will be willing to entertain discussions with them in that regard. So we were able to hold some discussions and we were able to clear up certain aspects prior to that final decision to lay off staff.
"We had a situation before where some staff were advised that they can in fact take what is called 'no pay leave' as opposed to lay off because as is known, once you are on lay off and that lay off is extended, then the provision of the law applies and that workers can apply for redundancy payment. To date, we have not received this information from Courts. And this is why I am saying that I am disappointed because normally, Courts would provide us with such information at the earliest," he further stated.
Just earlier this week, Chairman of the Fort Young Hotel, Gregor Nassief announced that the hotel was in the processing of laying off approximately 80% of its workforce due to the COVID-19 pandemic which has hit the hotel sector full blast, bringing operations to a virtual standstill.