Skipper Micah Joseph led from the front with bat and ball as he piloted Convenience Plus St. Paul's Cricket Club to their third consecutive win in the 2021 Dominica Cricket Association Trading International Group T20 National Cricket League.
Joseph put on an all round performance to help his club secure a 59 runs win over Reuben's Bakery Christian on Saturday at the Botanic Garden in Roseau.
After inviting St. Paul's Cricket Club to take the first knock, Joseph hit a top score of 47 as his club reached 147 for 8 in 20 overs. Khamal Hamilton with 20 runs and Casimir Benjamin with 18 runs aided the total.
Bowling for Christian Bernie Ryan picked up four for 27 and Kensley Seraphine bagged two for 19.
Set a victory target of 148, Christian could only muster 88 runs in 16.3 overs. Bernie Ryan 27 runs and Kieron Matthew with 11 runs were the only batsmen to show some resistance. Micah Joseph was the pick of the bowlers as he claimed four for 22.
In the other match on Saturday at Benjamin Park in Portsmouth, the Police Sports Club defeated the Dominica Cricket Academy by two wickets in a low-scoring affair. The Academy batted first and reached 96 all out. Darren Toussaint hit a top score of 26.
Bowling for the Police, Jason Lamothe picked up three for 19 and Kieron James bagged two for eight. In reply, Police reached 97 for eight with Jason Lamothe leading the way with an unbeaten 30.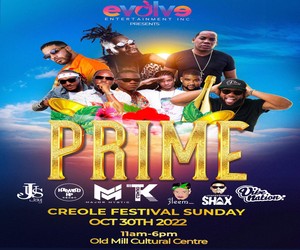 Joel Durand with two for 24 and J. Vidal with three for 16 were the leading wicket takers.
In action on Sunday, national player Jerlani Robinson hit the second century of the season as Go Sports Tremors defeated Jungle Bay Hurricanes by 64 runs in the second game of a doubleheader.
Robinson hit 101 as Tremors reached 192 for four in 20 overs. Vivian Titre and Kirsten Casmir with 40 runs and 14 runs respectively aided the total.
Bowling for Hurricanes, Shaheim Caesar took one for 28. Set a victory target of 193, Hurricanes reached 128 for eight in 20 overs. Raheim Prosper top scored with 40 runs. Limran Bernard hit 17 runs and Marshall Gregoire scored 12 runs.
Martin Matthew with three for 30 was the leading wicket-taker. Mervin and John Matthew finished with two for 13 and two for 17 respectively.
The other scheduled encounter saw Grand Bay Credit Union Colts winning by default over Marinor Blasters who failed to show up for the 9:30 am encounter.
Over at the Benjamin Park, KFC Summits defeated Sagicor Somerset by 65 runs. Summits scored 154 for 7 in 20 overs. Somerset replied with 89 in 19 overs.
Red Rock Bramblers suffered their first defeat of the season as they went down to Nagico Stars by five wickets. Bramblers batted and scored 85 all out in 18 overs. Nagico replied with 86 for 5 in 16 overs.