Roseau, Dominica – (April 21, 2022) Dominica's Jazz 'n Creole presented by the Ministry of Tourism, International Transport, and Maritime Initiatives has announced the full performance lineup for the eleventh
annual Jazz Festival being held on Sunday, May 1st at Fort Shirley, Cabrits National Park.
Six diverse acts will grace the main stage of Dominica's Jazz 'n Creole Festival this year.
Three additional artists were announced yesterday completing the full performance lineup. One new foreign act was named, Freetown Collective from Trinidad and Tobago, and two additional local artists, Dominica's national treasure, award-winning singer and songwriter Michele Henderson, and popular contemporary jazz band Breve.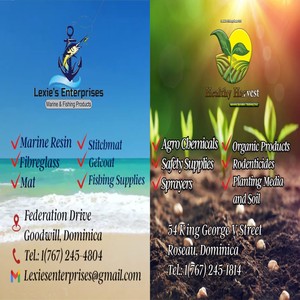 The full performance lineup:
• Teddyson John from St Lucia
• JSJ Trio from Guadeloupe
• Freetown Collective from Trinidad and Tobago
• Michele Henderson from Dominica
• Femme 4 featuring Starsha, Marsha, Tasha P, and Shalina from Dominica
• Breve from Dominica
DISCOVER DOMINICA AUTHORITY
Ground & 1st Floor Marpin House
5-7 Great Marlborough Street
Commonwealth of Dominica, W.I.
T: 767 448 2045 F: 767 448 5840
E: tourism@Dominica.dm
W: DiscoverDominica.com
Jazz 'n Creole Fringe Event Partners & DDA Representatives. A special highlight at this year's Jazz 'n Creole is the VIP experience which includes a designated parking zone, dedicated screening, shuttle service entrance to the main stage, premium drinks, and refreshments that make for a new elevated experience.
An added feature on offer to all patrons will be a 360-video booth for photo-sharing moments via social media and creating jazz memories. Several Jazz 'n Creole fringe events will precede the main stage event on Sunday, May 1st at Fort Shirley.
Fringe events begin with Jazz & Cocktails at Alliance Alliance Francaise de la Dominique on April 29 which features a tribute to Nelly Stharre. Fort Young Hotel's happy hour event dubbed Jazz on the Shoreline will also be held on April 29 from 5 pm. On Saturday, April 30, the fringe events move to Rosalie Bay Resort for Wato Drums and Fire and then on to Atlantique View Resort for the Pre Party, cadence, soca, country, and jazz.
Several sponsors were also present, and they verbally reiterated their support for the production of this year's Jazz 'n Creole Festival, as well as their partnership with Discover Dominica Authority to guarantee a successful event. The presenting sponsors included the Government of the Commonwealth of Dominica through the Ministry of Tourism, International Transport & Maritime Initiatives, silver sponsors Trading International Group, DIGICEL and Tranquility Beach Resort and Spa, business sponsors, Belfast Estate, J. Astaphan & Co. Ltd, and Timbo's Suites. Special acknowledgment was made of Josephine Gabriel & Co. Ltd. for their contribution
towards Jazz 'n Creole 2022.
Jazz 'n Creole tickets went on sale as of Thursday, April 13th at the Discover Dominica Authority/DFC office and online at https://shop.access767.com/dfc. Ticket prices are VIP EC$250.00, Grounds Experience EC$150.00, Children 12 -18 years EC$75.00, and Children under 12 years old FREE. The early bird special on Grounds tickets at $120 ends on Friday, April 22, 2022.
The organizers of Jazz 'n Creole, the Discover Dominica Authority through the Dominica Festivals Committee will host the final press conference leading up to the main event on Wednesday, April 27th, 2022.
For more information, persons can follow Dominica Festivals Facebook