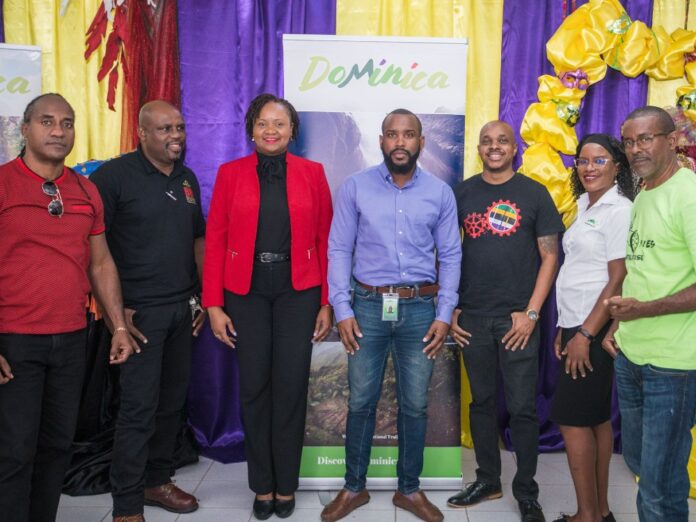 Carnival Celebrations are back in Dominica. The Official Opening of Mas Dominik 2023 takes place on Saturday, January 14, 2023, from 6 pm at the Stadium Forecourt preceded by the National Street Parade at 3 pm, under the theme, "Mas a Lawi".
After a two-year absence carnival in Dominica is back with color, excitement, music, cheerleaders, masquerades, costume bands, T-shirt bands, and troupes. A mix of traditional and contemporary flavors and highlights from Lapo Kabwit bands, Sensay, Black Devils, and Stilt Walkers, a taste of the cultural heritage. The display will also include the Calypso king and Carnival queen and the contestants of Miss Dominica and other pageants.
The 2023 Carnival Calendar boasts two months of activities for every age group including jumpups, fetes, parades, pageants, and calypso. Among the highlighted events are the Miss Dominica Carnival Queen Pageant scheduled for February 16th, 2023, SunRise on February 17th, 2023, and the grand Calypso Finals on February 18th, 2023. Calypso patrons can also look out for weekly calypso tents on Wednesdays and Fridays with the Stardom Tent being held at Petit Miami and Mas Camp at Jerk Hut both located at Castle Comfort.
Miss Tarnia Latoya Eugene contestant number #4 of the Miss Dominica Pageant was officially sashed by her sponsor Republic Bank Ltd. Other notable sponsors who have come on board thus far are the National Bank of Dominica, sponsor for contestant #5 Sandrin Elizee, and Convenience Plus/De Construction Solutions Ltd, sponsor for contestant #1 Meeya Francis. Belfast Umbrella of Companies has also confirmed its sponsorship for the Carnival season with BB rum being the official rum for Carnival 2023.
Mas Domnik, dubbed The Real Mas, is considered to be one of the most eventful seasons in Dominica portraying authentic masquerade in the Caribbean, and will run right through Carnival Monday on F A unique opportunity is open to all, and we welcome visitors to join in and experience the Caribbean's Real Mas experience. Airline and ferry tickets are still available and people are encouraged to book early. Mas Domnik 2023 is presented by the Government of Dominica through the Ministry of Tourism and Discover Dominica Authority (DDA). Discover Dominica Authority encourages everyone to use the hashtags #TheRealMas, #MasAnLawi,#DiscoverDominica, #DominicaFestivalCommittee, #DominicaCarnival, and #MasDomnik in social media posts.ebruary 20th culminating on Tuesday, February 21st, 2023.