ANNOUNCEMENT
The Ministry of Blue and Green Economy, Agriculture, and National Food Security's, Plant Protection and Quarantine unit wishes to advise ALL exporters, organizations, and institutions involved in the export of Fresh Produce via the Long House Port in Porstmouth, that inspections will now take place daily, during the hours of 9.00 am and 6.30 pm ONLY.
The decision to amend the hours for inspection  is a result of the increase in the number of non-compliance reports being received by the Unit as regards exported fresh produce from Dominica to regional territories
A non-compliance report means that the receiving country's Plant Health or Inspection services upon receipt and inspection of the goods, have cited the presence of pests and/or disease in the produce or the packaging, and this can result in strict import measures or even a ban placed on all ALL produce from ANY Dominican based exporter.
The Plant Protection and Quarantine Service has taken this proactive approach and will now undertake inspections during these times to ensure that produce is inspected thoroughly before being cleared for export.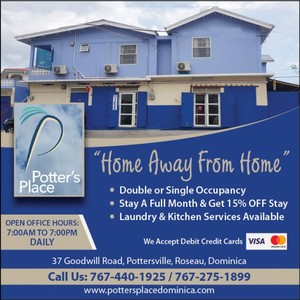 The cooperation of all exporters and the public is solicited.