Two of the island's most promising athletes have been afforded the opportunity to enhance their skills and at the same time, furthering their education.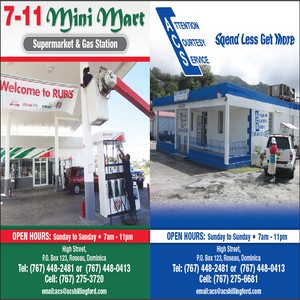 Twin brothers, Peter and Petersen Daniel will leave the state later this month en route to Jamaica where they will be students at the Edwin Allen High School.
At their new institution of learning, the boys are expected to continue their education while training under the supervision of a variety of top coaches in improved facilities.
The former Dominica Grammar School (DGS) students, who hail from the community of Trafalgar, have been in foster care and are the first beneficiaries of the Dominica Foster Care Program.
Jemma Azille- Lewis who's the coordinator of the Child Abuse Prevention Unit of the Ministry of Youth Development and Empowerment, Youth at Risk, Gender Affairs, Senior Citizens, and Dominicans with Disabilities, was very instrumental in arranging for the brothers to travel to Jamaica.
Azille- Lewis expressed delight at the opportunity given to the boys and heaped praises on coach Joel Hamilton and sponsors.
"Having the boys obtain this opportunity is heartwarming. This award shows that although life may have its challenges, with determination and hard work, success is possible. Special thanks to Joel Hamilton who paved the way in athletics for the boys as well as the good corporate citizens who came to our aid," she said with a sense of pride.
For their part, the Daniel brothers said that the opportunity is one that they have been longing for.
"We are happy to have obtained that athletics scholarship and we are also grateful for the support that we have received from various organizations which assisted in our trip to Jamaica. We are happy because we are seeing our dreams coming true," they quipped.
Foster parents, Mr. and Mrs. Marie Charles expressed the sincerest gratitude to the many firms and individuals who made the opportunity a reality and urged their sons to make the most of the opportunity presented to them.
The Chinese Community in Dominica contributed handsomely by donating cash totaling EC$5700. President of the Chinese Association of Dominica Mr. Han Qingfa and owner of Dragon Windows indicated that they were happy to assist.
"I have been living in Dominica for many years. I love Dominica and the Dominican people. I hope I can do more to strengthen the China-Dominica friendship," Qingfa said.
The Dominica Olympic Committee (DOC), the Dominica Football Association (DFA), Ronald Charles, and Elvis Morancie all made meaningful contributions. UNICEF donated a laptop to the boys.
Nature Isle News (NIN) wishes the Daniel brothers well as they embark on this life-changing journey.