A number of persons who claim that the Skerrit-led Dominica Labour Party (DLP) Government is abusing the Dominica Constitution walked the streets of Roseau today as they seek to get the government's attention on issues, they claim are affecting the State.
Some members of the opposition United Workers Party (UWP) the Dominica Freedom Party (DFP) along with a few civic-minded individuals dressed in "white" casually walked the streets of Roseau for over an hour.
Activist Athie Martin in addressing the group before the walk said it was for "abuse and violation of the Dominica Constitution."
"Over the last couple of years, I have observed as you have, the steady abuse, violation, deterioration of what we held dearly in Dominica our Constitution," Martin said.
According to him, government jobs are going to outside contractors who abuse and manage the terrain of the country. "Contractors are breaking up Dominica, they are breaking up the treasures that the creator gave us, and that hurts me and we cannot let that continue. You cannot have people quietly deciding who gets a contract. It is a violation of our laws," Martin stated.
He called on the group "as warriors" to "stand up".
"Until we do something more than talk which is never enough then it will continue…we like to talk and so it came about that we should walk, let's walk," he said.
Referring to a warning from Chief of Police (COP) Daniel Carbon that permission must be sort for walking, holding a march, or other forms of protest, Martin said that was not the case.
"We walk without fear since the laws of Dominica do not require us to ask permission to walk. The law is there to protect public order so when you walk you don't walk in the middle of the road…and walk with no fear," he stated.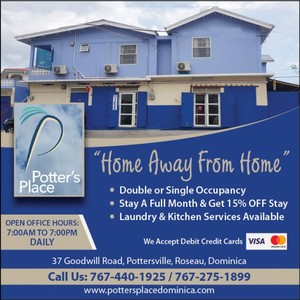 "We are going to exercise our rights in an orderly way, a lot of us are angry, short-tempered but we need to exercise restraint…and as peaceful law-abiding citizens let's walk."
The group then proceeded along Hanover Street with a brief stop next to Jackson's Bar and along the Dame Eugenia Charles Boulevard and to the Arch next to the E.C LoBlack Bridge.
The walk is said to continue every Wednesday.