Neil Nunes
Today I mourn the loss of a great man. Ken Richards was my senior journalist and mentor at the former BBC Caribbean.
He was known for his commitment to excellence, his editorial integrity, and rigour. He was fearless in holding the powerful to account.
Ken Richards was a proud pan-Caribbean man. He championed the Caribbean people, our story, and our place in the world.
He gave his all every single day. He was indefatigable.
But despite his career highlights, all I can think about is how kind Ken was to me. How despite the hectic nature of the job he had time for this 22-year-old upstart who joined BBC Caribbean in London 20 years ago.
Ken patiently taught me everything he knew. Everything. And was gentle with my mistakes. He wanted to see me soar.
By observing Ken I also learned the importance of fairness in journalism and having a broad mind. He taught me magnanimity.
We weren't just colleagues, we were "idrens". We shared countless stories and laughed. And debated. And laughed some more. And always discussed music – a passion of his.
I know I should celebrate his legacy. But this one hurts. I have lost a friend. A Caribbean stalwart is gone. One of Dominica's brightest ever lights has gone out. But more than that, a family is today without a loving father.
My deepest sympathies to his family, friends, and colleagues. Let's salute this great man.
Neil Nunes, newsreader/announcer: BBC World Service, BBC Radio4, BBC Radio 3
Ben Meade
The Caribbean lost one of its most humble servants today. Ken Richards was a friend and champion of the Caribbean and its people.
As a young man growing up, Ken's voice on the radio meant something important was happening and you should listen up.
I've had the privilege of calling Ken a mentor and friend. We developed an unbreakable bond when I joined BBC Caribbean and Ken helped me become a better presenter, journalist, and all-round human being. I remember working many nights with him on Caribbean Report with him as the lead producer and me as the producer presenter, as we'd gather our scripts and tapes to move from our newsroom and across the Bush House courtyard to our studio. Whether it was a show we worked on together or just offering advice, you could always turn to Ken. I'm forever grateful for people like Ken.
I offer my condolences to the family and to our media colleagues on this sad day. May we all find comfort in knowing his pain and suffering is over and reflect with pride at the contributions Ken made to his native, Dominica, and the wider Caribbean. So long, general.
It is said that the pen is mightier than the sword. And with your writing and broadcasts, you did exemplary work holding leaders across the region to account. May we all celebrate the legacy of true titans of the region like Ken. Their place in history should never be overlooked.
Rest in Peace, my brother, mentor, and friend.
Ken pictured in the centre with Colin James and me on either side during one of my visits to the Observer newsroom.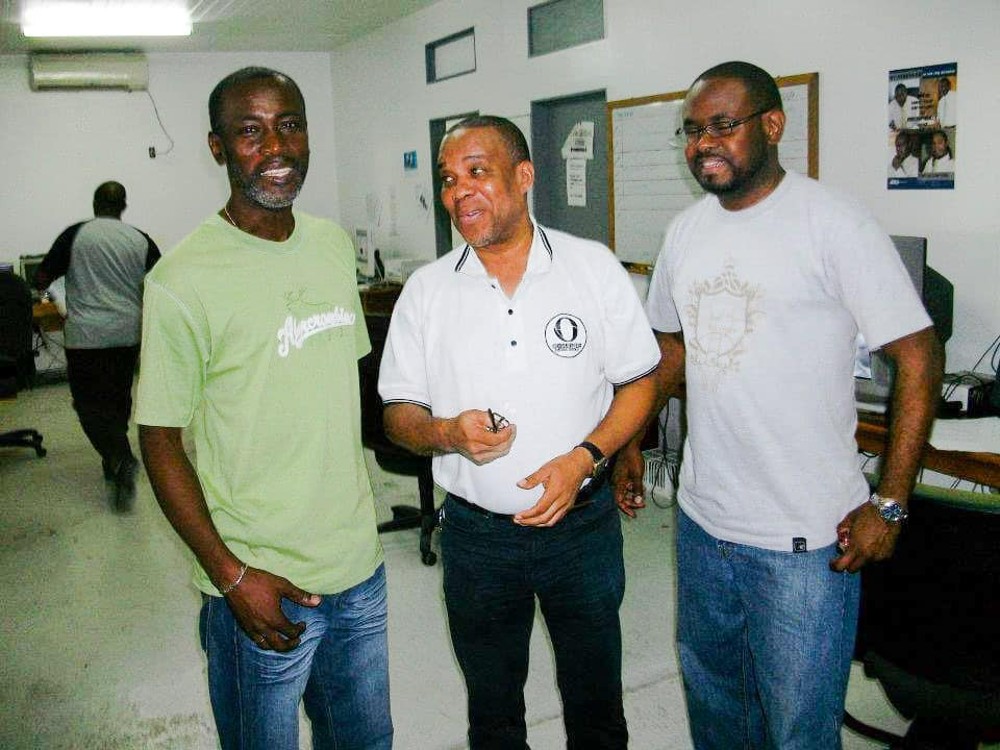 Michael Bascombe
The Caribbean Media mourns once again…
Ken Richards died in Dominica after a period of illness.
Ken was among the cadre of regional journalists who had stints at Radio Antilles and BBC Caribbean Service, among others.
As a correspondent, I had almost daily interactions with the likes of Ken, Debbie Ransome, Orin Gordon, Mike Jarvis, Marie-Claire Williams, Neil Nunes, Bertram E Niles, Franka Phillip, Ben Meade, and others.
It is evident that he made a significant impact on the field of journalism and the lives of those around him. Ken's professionalism, knowledge, and sense of humour, coupled with his commitment to integrity and fairness, set him apart as a true journalist.
Ken loved the culture, especially the indigenous music. Never attempt to start a discussion with Ken about music bands!
Ken's passion for journalism shone through in his reporting, as he strived to provide accurate information to his audience. His ability to cover stories from all corners of the region showcased his deep understanding of the issues facing the Caribbean. By asking tough questions, he contributed to the pursuit of truth and accountability.
Ken's dedication extended beyond his professional life, as he was a devoted family man. His passing is undoubtedly a great loss to both his loved ones and the media fraternity. His involvement in establishing and developing the Dominica Media Association highlights his commitment to press freedom and the growth of the industry. Mentoring young journalists throughout the Caribbean further demonstrates his desire to nurture and inspire the next generation.
His legacy will endure through the lives he touched and the stories he told. His well-researched and informative work, along with his ability to present complex ideas in an engaging manner, made him a valuable asset to the industry. Ken's willingness to go the extra mile and his role as a team player undoubtedly contributed to the production of high-quality content.
During this difficult time, my thoughts and condolences are with Ken's family, friends, and colleagues. May they find comfort and strength in their memories of him.
May Ken Rest In Peace, knowing that his contributions to the media and the Caribbean region will be remembered and cherished.