Anthony "Bwi-Lay" (Burns) Scotland of Pointe Michel will spend the next four months as an inmate at the Dominica State Prison after he pleaded guilty to disorderly conduct and armed with an offensive weapon ( a cutlass) on May 22, 2022, sent to jail.
Facts and Mitigation
On Sunday, May 22, 2022, during the 9 am mass at the National Shrine of Our Lady of La Salette in Pointe Michel, Anthony Scotland entered with two pieces of sugar cane bareback and walked up the center aisle was service was in progress screaming morning Father, morning father.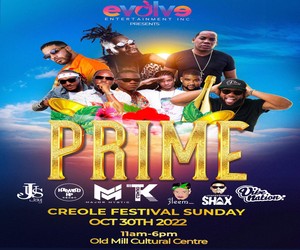 He was chased out and made good his escape with a cutlass he had outside. The police who were heading back to the police station were quickly on the scene and Scotland was chased and apprehended with the cutlass.
Questioned about his behaviour by the police he stated that he was "going to tell Father good morning" and the cutlass was to cut his cane since he is a farmer."
He also told the police that he went inside the church dancing because he was "drunk".
Asked for an explanation for his behaviour by Chief Magistrate Candia Carette George he responded, "I lapse, I should not have entered the church."
"You are drinking too much, if you weren't drunk I am sure you would not have done that. You need to have respect for the House of the Lord. You are putting people's lives in fear, you are tired of coming before the court and being fined, you need a little time to go and cool out," Chief Magistrate Carette-George told him.
She told him that it was time that he "changed his life and behave." He responded, "last night I make that decision…if you give me another chance I will do better."
Sentence
"You are not a first-time offender, the message needs to be louder and clearer to you. You need to respect the House of the Lord. You can't have yourself so untidy. You are sentenced to four months in jail for being armed with an offensive weapon and on the charge of disorderly conduct, no separate penalty," she said.