Darrel Holden Samuel 23 years old of Petite Savanne but who resides in Bellevue Chopin is now an inmate at the Stock Farm Prison after he pleaded guilty to possession of ammunition without being the holder of an ammunition license and being in possession of 0.7 grams of cocaine.
Facts
On Thursday, August 4, 2022, members of the Anti-Crime Task Force were armed with a search warrant in the name of Samuel and went to his home at about 5 am on the said date. After surrounding the house to ensure it was safe, one officer knocked on the door and identified himself, and told Samuel of the warrant he had to search his premises.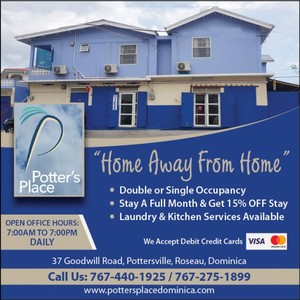 He was also asked if he had anything "illegal" and he replied "no."
In the presence of Samuel, a search was conducted and in his bedroom, one clear zip lock bag containing what appeared to be 'cocaine" was found along with 3 live 9mm rounds of ammunition in blue underwear marked "Leopoldo," one .38 Winchester spent shell was also found. When asked if he had anything to say about what was found he replied, "on the road, I get that."
He was further questioned about the ammunition found and he replied, "a fella crank his gun three times and they fall, and I pick it up on the Bay Front." Asked if he was the holder of firearms and ammunition license he replied, "no Officer."
The police continued the search and found 5 live rounds of 12-gauge ammunition in the ceiling of the defendant's house. Asked about it he replied, "I don't know how that reach there."
He was arrested and brought to police headquarters where the alleged cocaine was weighed and amounted to 0.7 grams. The alleged cocaine was sent for testing and returned positive.
Mitigation
He pleaded guilty to the charges and asked the court to be merciful to him, but he was reminded about the use of firearms used in the commissioning of crimes in the country and that the court was duty bound to take note of what is happening and send a clear message of its disapproval of the use of drugs and illegal firearms and ammunition in the country.
Sentence
For the possession of illegal ammunition without being the holder of a firearms license he was sentenced to two (2) years in jail and for the possession of cocaine he was slapped with a fine of $2,500.00 to be paid by January 31, 2023, or in default six (6) months in prison.