Prime Minister, Hon. Roosevelt Skerrit met with His Excellency, Scott Furssedonn-Wood MVO, British High Commissioner to Barbados & the Eastern Caribbean at the Office of the Prime Minister on Wednesday.
His Excellency, Scott Furssedonn-Wood MVO is leading an eight-member delegation on an official visit to Dominica from January 10-14.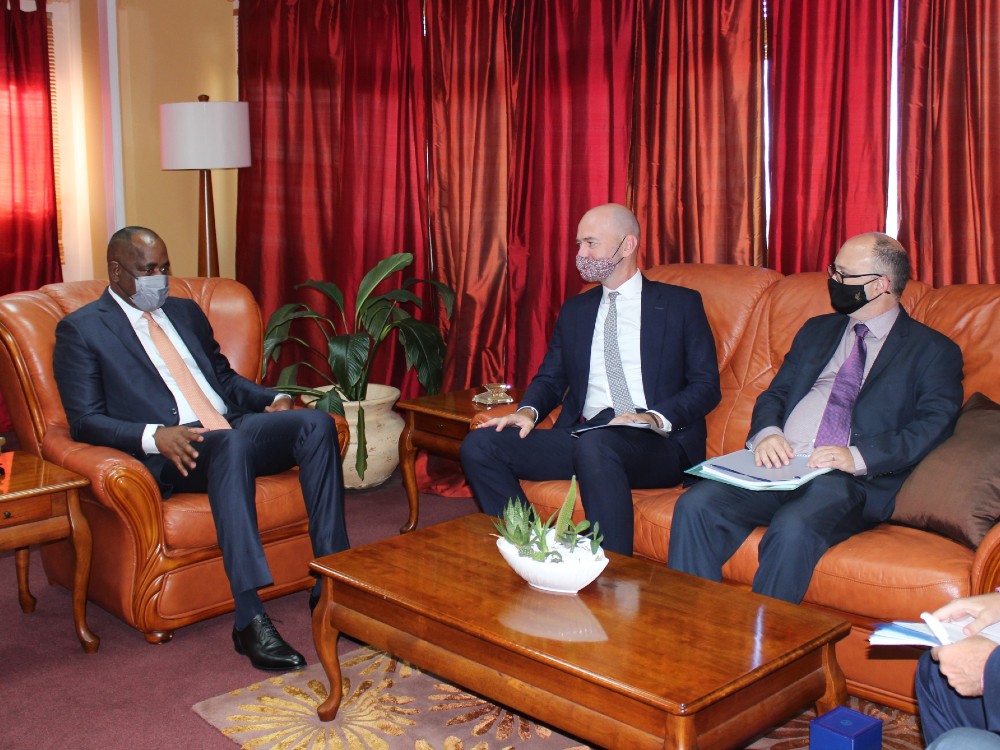 The leaders exchanged views on existing bilateral relations between Dominica and the United Kingdom and discussed priority areas for enhancing social and economic cooperation.
His Excellency, Furssedonn-Wood MVO has met with the President of the Commonwealth of Dominica, His Excellency Charles .A. Savarin, and Her Excellency Francine Baron, Chief Executive Officer of the Climate Resilience Execution Agency for Dominica (CREAD).
Meetings were also scheduled with Hon. Dr. Kenneth Darroux, Minister for Foreign Affairs, International Business and Diaspora Relations, and with Hon. Cozier Frederick, Minister for the Environment, Rural Modernisation and Kalinago Upliftment during a visit to the Kalinago Territory.

The delegation toured the Geothermal Plant in Laudat; participated in the commissioning of the Grand Bay SMART Health Facility on Thursday, January 13; and viewed the Loubiere to Bagatelle Road, ahead of construction work, which is expected to get underway this year.
The Loubiere to Bagatelle Road and Bridge Rehabilitation Project is funded under the United Kingdom Caribbean Infrastructure Partnership Fund (UKCIF).
A visit to the Portsmouth Hospital and a meeting with Historian, Dr. Lennox Honychurch are also scheduled.